ICAPS 2022 Doctoral Consortium
The ICAPS Doctoral Consortium (DC) is intended to provide Ph.D. students with the opportunity to interact closely with established researchers and to get feedback on their research, provide advice on career possibilities and build a professional network, improving the cohesion of new researchers with the ICAPS community.
The DC is open to all doctoral student attendees of the conference and will take place on Sunday, June 19th (the day before ICAPS workshops and tutorials). Attendance is free for everybody joining ICAPS, participation in the Mentoring Program requires registration with the organizers, see below.
If you want to help us organize the DC, please take part in this short survey.
Latest News / Join the DC on gather.town!
Some very recent information for those considering to join (including all mentees of course!)
The gather.town room is now set up -- but you cannot enter it yet unless you find the secret invisible entry placed for us organizers. :) At the latest on Monday morning you will find the room by entering Marina Bay Sands. See ICAPS's gather.town instructions to see how to join.
The posters (with their 2-minute teaser talks) are placed in that room too. There's a poster stand showing which poser is on which location. But our schedule below also species numbers -- these are the ones of the respective poster stands.
Just a reminder that all mentees produced a 6 to 7 minute long video, which is not part of the program. Please watch it on YouTube.
In the beginning as well as at the end we have approx. 50 minutes of "speed gathering" for our 13 mentees (that's basically speed dating on gather.town). Very often, your fellow PhD student peers are those you hang out with years later, so we thought that's a nice way to get to know each other. We'll have 13 rounds (assuming everybody joins), so about 3.5 minutes per round, so about 100 seconds per speaker in each round. These were some ideas to tell something about yourself or ask your partner:

Beer, Wine, Cocktails, Bubble Tea, or Water?
Cats or Dogs?
Industry or Academia?
Java or C++?
Machine Learning or Planning?
Theory or Practice?
What are your hobbies? (Even if you don't have time for it!)
What/Who inspired you to study computer science and/or AI?
Why did you decide to embark in a PhD program?

We start with a very quick welcome in our zoom room. Please come to the DC gather.town first and hit x to join the zoom meeting. There we quickly explain the speed gathering and then go back to the DC room where the event takes place. Since it's our intention that the PhD students get to know each other, neither of the organizers takes part. If however other participants really want to take part as well, we consider moving to the bar, where there's another (much larger) speed gathering table circle. But so far we expect it's just us -- let's just see!
Don't forget that we have a great invited talk! See below.
Mentoring Program
We encourage current doctoral students who are at least one year in their Ph.D., but also at least one year away from defense/completion to apply for the Mentoring Program.
The Mentoring Program is designed to provide Ph.D. students working in an area relevant to the ICAPS community with an opportunity for in-depth advice by senior members of the field regarding careers and research skills. Each student accepted to the program will be matched with an established researcher in the field who will assist the student with research and career management advice. Applicants are encouraged to provide their suggestions for fitting mentors, otherwise we make a selection based on topics / area of interests.
Invited Talk
We are more than happy to announce a very exciting speaker!
Wheeler Ruml will give an invited talk about paper writing and giving talks!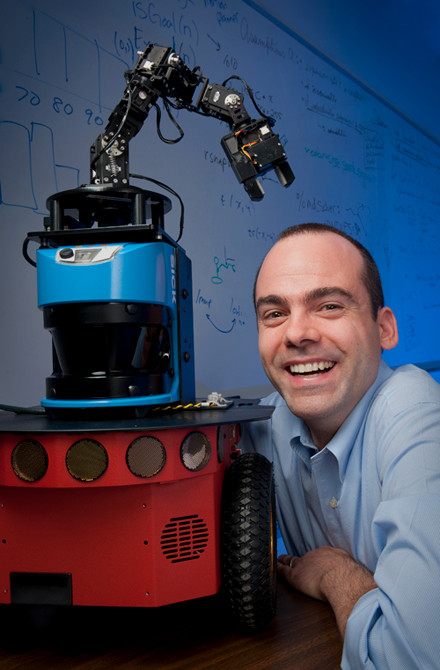 Wheeler Ruml
Professor in the Department of Computer Science at the University of New Hampshire (website)
Bio: Wheeler Ruml is a Professor of Computer Science at the University of New Hampshire (UNH). He was General Co-Chair of ICAPS-14, Treasurer for the ICAPS executive council, and a co-founder and President of SoCS. Before joining UNH, he led a team at Xerox's PARC lab that used AI planning techniques to build the world's fastest printer. He enjoys trying to decide which node to expand.
Why Are You Doing This? Advice on Writing Papers and Giving Talks
Science is a grand conversation that spans the globe and continues over generations. Writing a paper is your chance to cheat death and join in this noble endeavor. Just as you formulate your thoughts before speaking during a conversation, you should understand what you are trying to say with your paper, even before you start the research. Similarly, giving a talk is your chance to share with others the good news that you've discovered. But don't overestimate the listener - they are probably jet-lagged or distracted by a child screaming in the other room. This talk will be full of my personal opinions and advice - I hope it is helpful to you!
Application Procedure for the Mentoring Program
To participate in the Mentoring Program, an application is required.
Applicants for the Mentoring Program should submit the following separate PDFs:
Dissertation abstract. A dissertation abstract (in AAAI style) of at most 4+1 pages, where the additional page may only contain references (so that related work can be sufficiently positioned). We insist on submissions via LaTeX.

Authors and Supervisors. Since this is an abstract of a dissertation, we very strongly encourage to have just a single author, which is the Ph.D. student. For the supervisor(s), we (again: strongly) encourage to add them into the block of affiliations.
Title. For the sake of consistency in the proceedings, but also since we believe it makes a lot of sense for putting the paper into the right context, we strongly encourage to first start with a normal title (best case: the final dissertation title) followed by "-- Dissertation Abstract" (where the "--" is the LaTeX command to produce a slightly longer dash). Also, as for any other conference paper, please adhere the standard capitalization rules for paper titles.
Structure. The paper should in general adhere and follow the standard structure of top-tier conference papers. So make sure it contains at least an abstract and introduction. It is up to the Ph.D. student whether or how to deviate from standard papers structure-wise in the remaining sections to be able to present the current progress and future steps until completion in a more adequate way. Please adhere the standard capitalization rules (like for titles) for sections and subsections as well.
Content and Level of Abstraction. The paper will of course be much less technical compared to papers at main AI conferences as it is not supposed to make technical contributions but only lay out the investigated research questions (for which of course a certain level of detail might be required). The main purpose it serves is answering the question of what has been done so far and what's still planned until the completion of the thesis -- while putting all this into the context of related work in the literature.
Publication and Copyright.

We will publish individual dissertation abstracts both (a) about a week before the DC (so that interested seniors attending the DC can have a look in advance), and (b) some time after it, the entire updated proceedings (which allows incorporating feedback from the DC), in which we will include all accepted DC dissertation abstracts. Should there be any concerns regarding putting a paper online (e.g., since open/unpublished research ideas are being mentioned), we are happy to exclude individual abstracts, though we hope that all can be included. By default we assume that all submissions can be published. Should you not want this drop us an email.
Of course the proceedings will be non-archival meaning that the authors keep all copyrights. So please remove the AAAI copyright notice that by default appears in a footnote on the main page. For suppressing this (in our context: wrong) copyright notice the AAAI sty file support the command "\nocopyright" that you need to put into your paper's mainfile. Note that by default this command is commented out in the sty file, so please search for it and remove the comment symbol.
Although we don't claim any copyright we will not accept any copyright-protected material (graphics or text fragments) as we might not have the right to put it online despite the proceedings being non-archival. That's because the rights granted to the authors of accepted archival papers are normally rather restricted; authors might be allowed to upload the specific entire paper on their own institution's webpage, but usually this does not include allowing others (like us DC organizers) to distribute that material or parts of it. So please make sure that no material (except definitions etc.) is copied from archival papers (where some copyright agreement was signed).

Preferred Mentors. A list (ordered by preference) of potential/desired mentors. Applicants are strongly advised asking their supervisors and other senior researchers for possibilities, as they often know more people than young researchers or look from a different perspective. Since ICAPS (and thus the DC) is online, time zones might be an issue. So please try to identify five mentors to give us some flexibility. In the unlikely case that even this list doesn't suffice we will reach out to the Ph.D. student to prevent any conflicts of interest.
Supervisor statement. A letter from the candidate's Ph.D. primary supervisor confirming the enrollment in the Ph.D. program. The general area or research question addressed in the thesis would be advised to be mentioned. To make it an official confirmation, make sure the letter is signed by the respective main supervisor.
CV. We provide suggested headlines/content to make sure nothing important is missed. This information will be particularly useful for the respective mentor to advise on what to focus more (or less).

Academic Education and Appointments. In actual "applications" that usually divided into two separate sections. Here it doesn't really matter, probably.
Honours, Honourable Mentions, and Awards.
Additional Qualifications. This may include (mentioning) certificates related to teaching, soft skills, etc.
Reviewing. SPC/PC memberships, Reviews.
Further Services. Conference, Workshop organization and the like. Session chairing. Basically any other service that deserves mentioning like serving on University boards or organizing events for pupils etc.
List of publications. If you use LaTeX (which we strongly encourage you to!), please make sure to use adequate bibtex types and provide all important information (like publication venue, which is normally reflected in the book title).
Teaching. Did you support courses (via tutoring, exercise or exam creation or correction etc.), or even deliver some lectures?
Student supervision. Did you supervise any students? Most importantly, did you supervise Bachelor or Master theses? It might be worth mentioning if any of these resulted in a publication. (But any supervision should be mentioned, including supervision of seminar students.)

Note that depending on how junior/senior you are, and clearly depending on your personal circumstances like academic environment and contract etc., some (or even most) of these categories might be empty or almost empty. Do not be discouraged by this, that is more than normal! Including them in this mentoring context anyway still seems like a good idea so that your mentor can provide a more holistic feedback.
Optional: One publication. A single representative/exemplary publication to which the applicant has contributed significantly (first-author preferred). Select whatever you believe will be most helpful for you and your mentor for upcoming discussions.
Additional Information. A single letter containing two pieces of information:

Required: Your country and UTC time zone at the time during ICAPS (mind summer vs. winter). Should you prefer providing another time zone (like GMT), please provide UTC on top of this to save us some time.
Optional: Any additional information the Ph.D. student would like to convey to the mentor. E.g., would you like to get specific feedback, like any specific questions you might have? General information you could consider to provide could involve: What career path is planned? Academia (in industry versus at a University), a job in industry, not sure yet? The mentoring program is intended to discuss such questions and more. So all this can just purely brought up during the mentoring, but the applicant may also phrase some of them in advance. This might help the mentor to get prepared, but it also helps the mentee to get the most out of the meeting and not miss anything.
Submission procedure
Upload your application to easychair. Please do and consider the following:
When using the link, choose the track Doctoral Consortium.
For the paper, upload your dissertation abstract. The PDF filename doesn't matter as the paper gets renamed by easychair anyway.
The system also asks your for supplementary material claiming it's for "videos, technical proofs, additional experimental results". This is wrong for our context as it refers to the ICAPS main conference. Please use this upload option to upload a zip file containing all remaining application material. More precisely, please follow the naming convention firstName-familyName--X.pdf, with X in:

00--preferredMentors
01--supervisorStatement
02--CV
03--paperSample
04--additionalInformation

When inviting the respective mentor, we will only send the paper to prevent privacy issues should the mentor decline (as the CV and the additional information might be quite personal). One accepted we will make all files available except the preference-ordered list of preferred mentors.
Important Dates
ICAPS notification is February 18, so that any accepted ICAPS paper could be mentioned and even sent with the application.
| | |
| --- | --- |
| Submission deadline: | February 27, 2022 |
| Notification date: | March 27, 2022 |
| Final paper submission: | tba |
| Doctoral Consortium: | June 19, 2022 new: June 20, 2022 |
Costs and Student Support
Participation costs will be included in the registration fees for ICAPS. Thus, anybody who wants to participate in the DC (participants and mentees) will have to register for it as part of the standard ICAPS registration.
Since ICAPS and thus the DC is entirely online, there's a very good chance that participation in the mentoring program will be free. This is however not perfectly clear yet and will be announced in time.
Additional financial support for students (for ICAPS conference fees or travel and/or accommodation costs) is likely to be implemented, though it is too early to confirm. We will announce this in time.
Format and Program
The DC follows the format of ICAPS, i.e., if will be fully online.
Students will present their work in rather shorts talks and discuss them in more detail via posters. (If gather.town will be used.)
Feedback from a mentor will be given in "private" 1-on-1 sessions with the respective mentor.
There will be some invited talk or group activity centered around a non-scientific topic (but related to academia in one way or another). We are happy to get any suggestions, so just reach out to us. :)
We also plan a social event. Suggestions can be made via our survey. (But you can also contact us.) (Update: This is decided now, see our comment below the schedule)
Schedule: (times are CEST / UTC+2)
before the DC
Watch the video presentations of all participants at your own pace on YouTube.
7:00 pm - 8:00 pm
Welcome & Social Event
8:00 pm - 10:00 pm
Poster Session 1


Maxence Grand (poster stand 2)
Thorsten Klößner (poster stand 7)
Carlos Núñez-Molina (poster stand 3)
Kristýna Pantůčková (poster stand 11)
Devin Thomas (poster stand 6)
Marcel Vinzent (poster stand 10)
Eyal Weiss (poster stand 1)

10:00 pm - 11:00 pm
Invited talk: Wheeler Ruml (+ Q&A)
11:00 pm - 11:30 pm
Break
11:30 pm - 1:15 am
Poster Session 2

Ursula Addison (poster stand 13)
Songtuan Lin (poster stand 9)
Johannes Schmalz (poster stand 12)
Naman Shah (poster stand 8)
Pulkit Verma (poster stand 5)
Xiaodi Zhang (poster stand 4)

1:15 am - 2:15 am
Closing Remarks and Social Event
All times are CEST (i.e., UTC+2, e.g., Germany) The social event will be a speed dating round among the mentoring participants (or other young newcomers to our community). The organizers are not taking part. Depending on how many others join and want to participate we will still reconsider to have one large round with everybody or have two different rounds (as it's our intention that the PhD students get to know each other).
Accepted Papers and Presentations
Below you find all accepted DC papers, with links to the PDFs as well as their presentations on YouTube. Note that the papers are preliminary versions! They will get updated after the ICAPS (so that feedback (and literature recommendation) given at the DC can be integrated).
Additional Material (from previous DCs, or other Useful Links/Material)
Invited Talks. Each year, organizers put a lot of effort into coming up with a great program for the respective DC, one of the highlights being senior ICAPS members sharing their experience in form of invited talks. So we've put together a collection of those which were made available online:
Invited talk by Subbarao (Rao) Kambhampati from ICAPS DC 2020 on Planning in the age of deep learning. Zoom recording. Recording including the speaker.
Invited talk by Subbarao (Rao) Kambhampati from IJCAI DC 2013 on How to write good papers and how to give good talks. Slides. Talk Presentation. Although this is an IJCAI DC talk and not an ICAPS DC talk we wanted to share it anyway since (a) the advice is general, and (b) it's from Rao, i.e., a planning researcher! So check it out!
Further material.
Reviewing: This great webpage gives a comprehensive overview of "Mistakes Reviewers Make". You'll need more than 30 minutes to read through, but it's worth every single minute. It's particularly helpful for young/inexperienced reviewers. It's not explaining how to write reviews, but the insightful explanations on commonly made mistakes help reflect and improve one's own review. Really worth reading!
Question to Ph.D. students and everyone else: Do you have suggestions on what to add here? Please let us know!
Note to future DC organizers: This DC website is significantly extended compared to all previous years, e.g., according to rules, what and how to submit, advice, and much more. Please feel free to re-use our text! We also have a well-structured repository available with useful material such as email templates, to-do schedules, statistics (like number of attendees) about previous DCs, and much more! We are happy to share this with future organizers. Just contact us! (We will of course not make any student data/applications available.)
Participants
(Listed alphabetically by first name.)
Carlos Núñez-Molina
Devin Thomas
Eyal Weiss
Johannes Schmalz
Kristýna Pantůčková
Marcel Vinzent
Maxence Grand
Naman Shah
Pulkit Verma
Songtuan Lin
Thorsten Klößner
Ursula Addison
Xiaodi Zhang
Mentors
(Listed alphabetically by first name.)
Alessandro Cimatti
Christopher Beck
David Smith
Eva Onaindia
George Konidaris
Hector Geffner
Laura Hiatt
Malte Helmert
Masataro Asai
Mauro Vallati
Sarah Keren
Subbarao (Rao) Kambhampati
ICAPS DC 2022 Chairs (Organizers) / Contact Information
For any questions, feedback, or suggestions, please don't hesitate to reach out to us!
You can also use the address icaps2022dc-at-easychair.org, which forwards mails to us both.
Pascal Bercher:
Sara Bernardini